Spielfilmklang - Audio Content Manufaktur
Music Composition And Sounddesign for
TV, Film And Games
At the heart of every great film or game lies a great story.
Music composition and sound design are there to help the story unfold – to help the viewer step over the boundaries of the visual realm and into the story itself. The soundtrack conveys both emotions and conflicts, often even before the audience is able to pick up the visual cues from the screen.
The awareness that is brought by music and sound lets you not only immerse yourself into new worlds, it instantly takes you to the place you see in front of your eyes. This can be done through a subtle underscore or a heroic fanfare going at full tilt.
A story-based approach to music and sound is therefore not centred on the score and sound design, but on the story itself.
Story-based approach to music and sound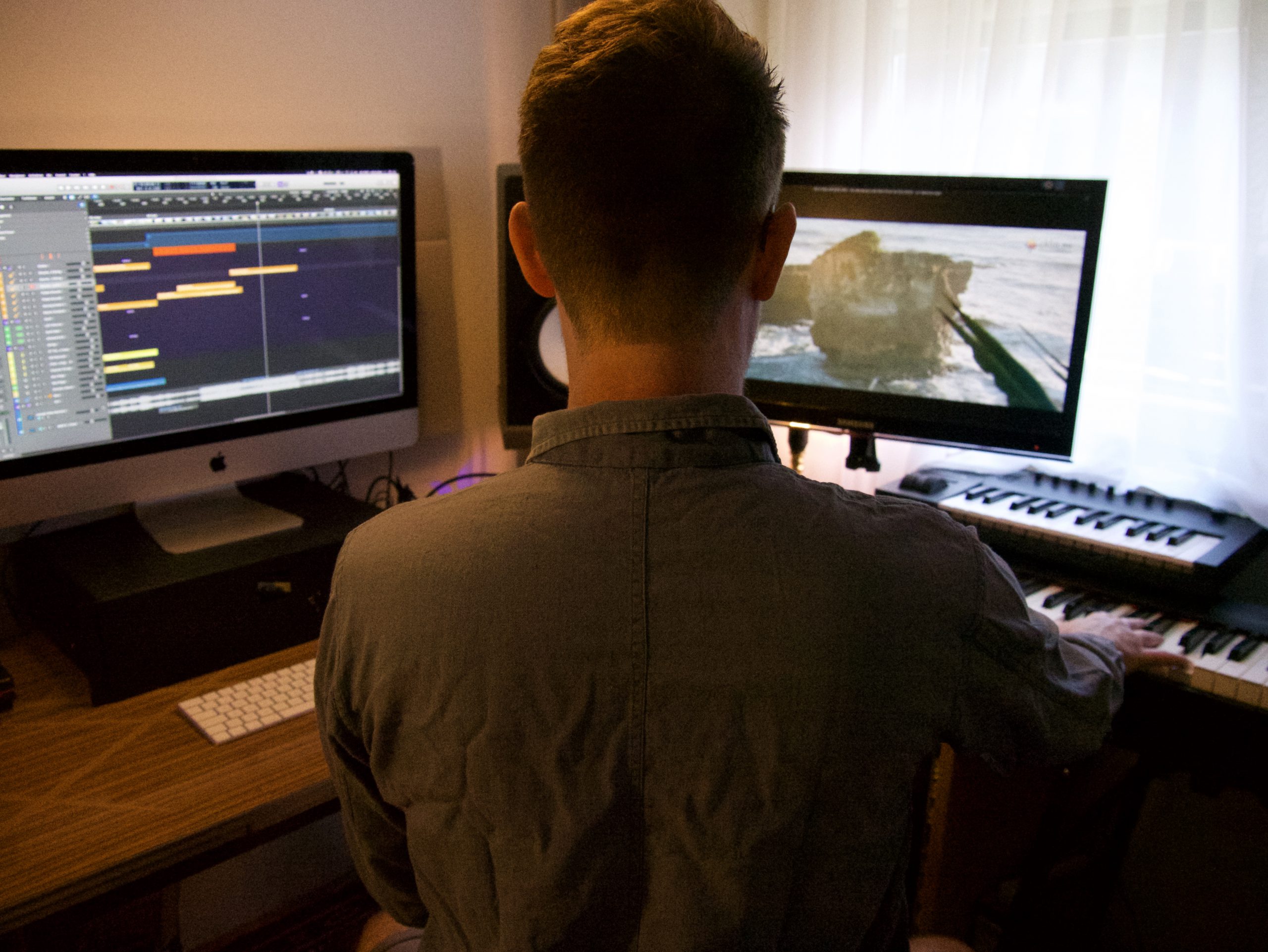 Achim Gössl is a composer and sound designer based in Gothenburg, Sweden.  He is currently working as a score producer, arranger and pianist on
TV and feature films
(e.g. German public service broadcasters ARD and ZDF) for award-winning composer
Martina Eisenreich
 and on own projects.
After completing his diploma in geography in 2012, Achim started working as a professional musician and keyboards/piano teacher. Since starting his career in the music industry, Achim has also worked as an in-house sound designer for one of Germany's major casual games producers and has scored a wide variety of short films, documentaries, games, commercials and theatre music
MUSIC
from recent projects
Hit "Play" to open integrated audio player.
What i've been working on
AS music Producer / additional Music
for Martina Eisenreich: 
– DAS WUNDER VON KAPSTADT (2022) – music production, programming, additional music
– LOST IN FUSETA (ARD, 2022) – head of music production, programming
– SÜSSER RAUSCH (ZDF, 2022) – music production, programming
– STERBEN IST AUCH KEINE LÖSUNG (ARD, 2021) – music production, programming
– EIN SOMMER IN ISTRIEN (ZDF, 2021) – music production, programming
– ENDLICH WITWER II (ZDF, 2021) – music production, programming, keyboards
–  MUTTER, KUTTER, KIND (ARD, 2021) – music production, programming
– EINE LIEBE SPÄTER (ARD, 2021) – music production, programming
and more…